Human Services Network (HSNet)
A directory of human services for the NSW public and the service sector. HSNet allows professionals in the human services and justice sector to network and make client referrals.
About HSNet
HSNet is a free directory of human services, open to anyone looking for support services in NSW. It contains 70,000 service listings across family support, child protection, child wellbeing, health, disability, aged care, welfare, community, education, legal, justice and housing.
Services specific to the Aboriginal and Torres Strait Islander communities are highlighted with Aboriginal and Torres Strait Islander flags.
In addition to its public availability, HSNet supports government and non-government staff working in the NSW human services sector. It offers providers and referrers a comprehensive web-based public directory of support services, with options for members to use e-referral and service capacity management.
What can you do in HSNet?
For anyone
Search

You can search the comprehensive directory of human and justice services across NSW.

Searching is open to the public and available from any internet-enabled device. Registered members can save favourite services for easy retrieval.
For registered members
Create groups

Once you register as an HSNet member, you can create secure groups for private collaboration.

You can find and share information from around the sector.

You can post articles and events to your group/s and to the HSNet community.

Show capacity
You can display current service availability using the handy traffic light in the service directory, giving referrers useful placement information.
Make referrals
Using our secure network, you can refer a client from service to service and track the progress of the referral, once you've been set up as a referrer.
Our partners
HSNet is a cross-sector initiative of the NSW Government. The website is administered and supported by DCJ.
Find out more information at HSNet.
HSNet dashboards
Display:
This page explains the dashboards.
Service demand dashboard
Many people are searching HSNet and AskIzzy for service advice during the COVID‑19 pandemic.
Our weekly dashboard tracks changes in HSNet searches for food, domestic violence, housing and legal services since the outbreak of COVID‑19, and have been produced by FACSIAR.
View the Service demand dashboard [20MB] (this will download to your computer and then open in the browser)
Important note about interpreting the data
The data is not validated statistical data. It's useful as an indication of the current number and type of searches since 21 March 2020 for food, and from 28 March 2020 for all other categories. We don't recommended trying to drill down for data on levels lower than Community Service Centres (CSCs), as the location data isn't precise.
Navigating the data
You can navigate the service categories by clicking the icons across the top of the page.
Press the play button on the bottom-left corner to see the growth or decline at a disaggregated level per day.
Quarterly dashboards
The HSNet quarterly dashboards show information about membership, referrals and searches by topic and district.
Changes in demand for social services during COVID-19: Analysis of HSNet searches January 2019 to March 2020
How to update service information on HSNet
It's important to keep your organisation's service information up to date in HSNet as the details flow to other databases: Ask Izzy, Lifeline and Service NSW.
To update service information:
Click on the links at the bottom of the HSNet listing (as shown in the magnified section of the image below).

Click Update this service if you're a member.
Click Report an error if you're not a member.

In the box that appears, explain what's required to be updated.
Click Submit.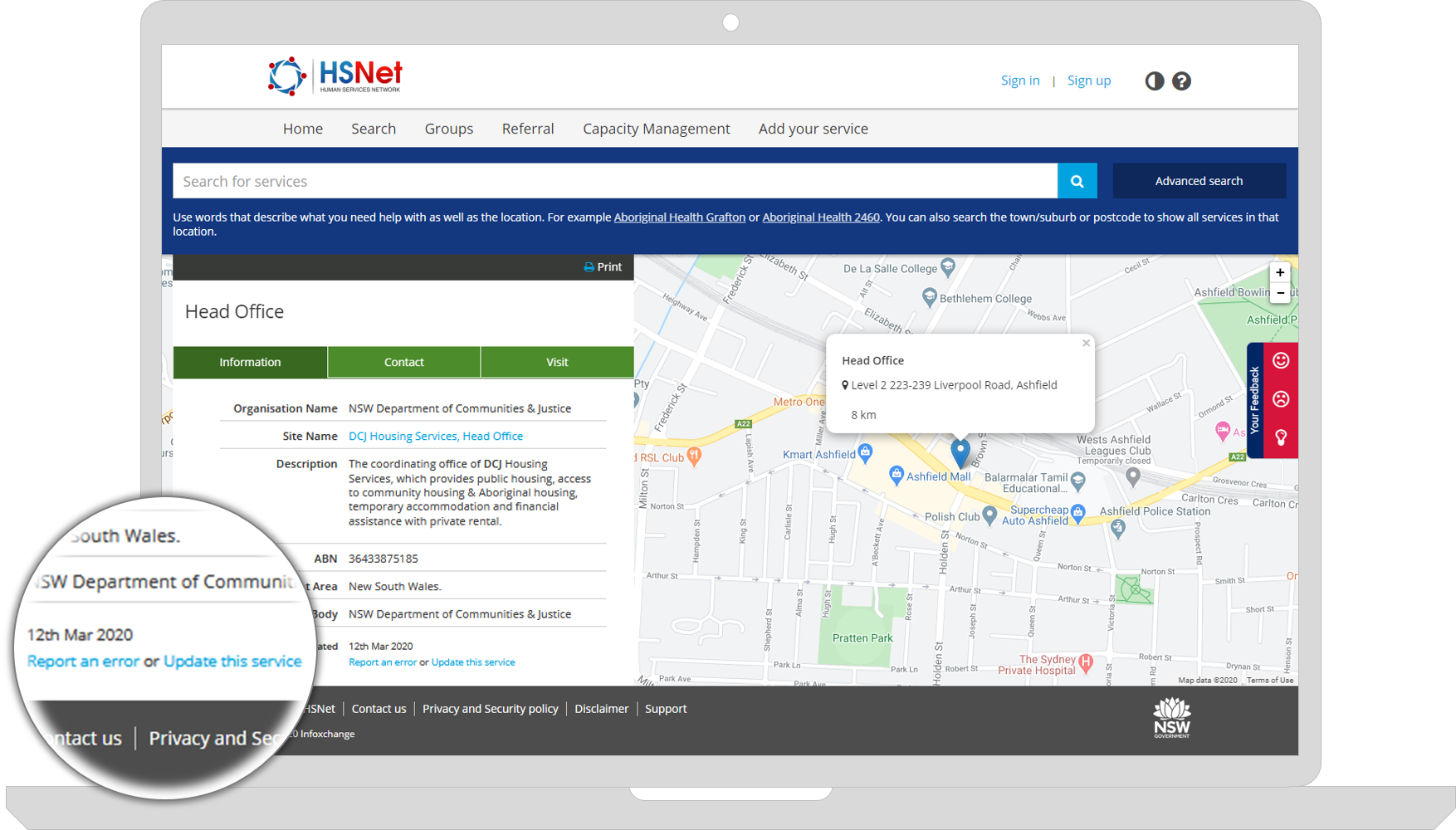 If you have more than one service listed and they all need updating, you can either:
request updates to each listing using the instructions above, or
send an email to HSNet and request a multiple update.
Last updated: 18 May 2020