Photographer – Julie Slavin
Betty
'They call me "Billiard Betty", which makes me laugh! I'm 87 years old, healthy and fit as a fiddle. Every day is a wonderful day. I love everyone and they all seem to love me in return.
'I have my own room in the low care section at a nursing hostel in Taree and enjoy it here so much. This is where I discovered an unused billiard table. The staff informed me that they've never seen a resident ever play on the table before – only visitors and their kids. Well, this has changed! I play up to six or more games a day. I find it great fun and it seems to entertain the other residents who laugh when I tell them or they ask me who's winning. Of course it's me as I'm only playing myself.
'My husband (who died three years ago) and my five children all used to play on our table that we had at home, many years ago. But for some reason I never ever had a game with them – I don't know why. But I'm making up for it now, that's for sure. I love my life and enjoy every day and am so grateful for everything.'
Doreen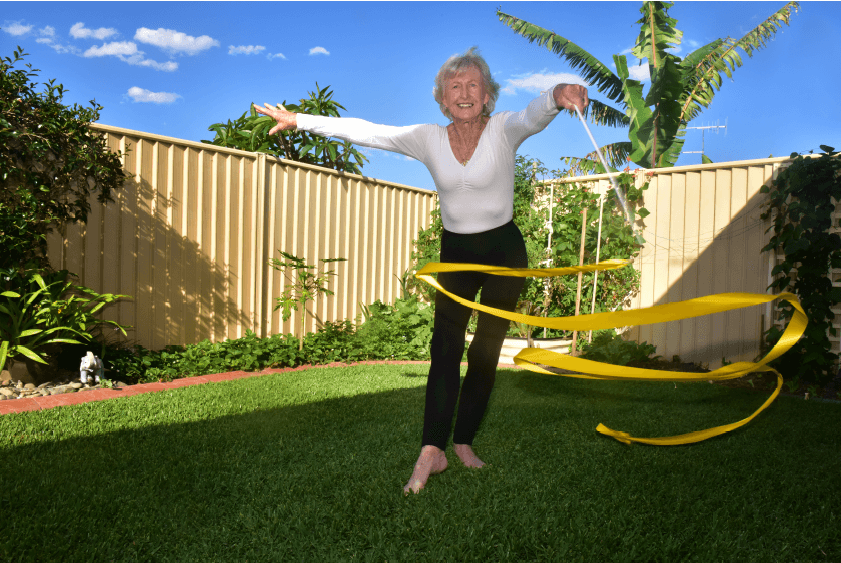 'Currently I spend several days a week teaching seniors aged 60 to 90 about the benefits of movement and exercise at all levels of ability. I also work one day a week with young people learning rhythmic gymnastics.
'Volunteer work is on the agenda for my husband and me, including Meals on Wheels, high school canteen, Quota, and now I'm venturing into the HIPPY program, which is sharing my talents with young Indigenous mothers and their preschool children. I also enjoy gardening (quiet time), having fun on the beach in the early morning with my husband and dog, and playing croquet. Perhaps cruising is our favourite travelling occupation now in our "grandly mature" years – it's so peaceful and relaxing.
'I don't think of myself just as a teacher but as someone who inspires others to motivation and achievement. The past three years have been rewarding as I've shared my program for seniors with gymnastic associations shared in three states of Australia – running courses for coaches to spread the message of movement for life to improve quality of life and for seniors to live capably in their own homes for as long as possible. I look forward to doing this with my husband.'
Lyn
'I was born on the Aboriginal Mission in Biripi country near Taree and raised in Worimi country near Forster. From the time I was born, I was loved and nurtured by my parents, grandparents, aunties and uncles. Growing up, our lives were full of adventure. We spent the whole day playing in the swamp picking wildflowers and bushwalking. We had to be home before the sun went down. That was the rule. We were taught respect, caring and sharing.
'After turning 16, I went to Sydney with my cousins. We all had a job working in a shoe factory close to the city. We worked hard, had fun and made a lot of friends. I came back home after four years in the big smoke, got married and settled down. I've had a great life with my husband, my beautiful children and grandchildren.
'As Elders in our community, we are role models and have a duty of care to the younger generation to pass on to them our wisdom, knowledge and cultural values to ensure they get the best start in life with positive outcomes.
'Having worked most of my life, I've been employed in health and education and doing TAFE courses in art, ceramics and graphic design. I enjoy singing, dancing, weaving, gardening and art. I do Fit Mob exercise classes with our elders group twice a week. We also go on outings at least once a fortnight.
'Life is too short to be sitting around. We have to keep moving to keep the dream alive.'
Peter
'I was born in Wingham in 1955 and completed an apprenticeship in horology (watch and clock making) in Newcastle. For the last 48 years, I've specialised in antique watch and clock repairs.
'After spinal surgery in 2000, I was told that because of nerve damage in my back and feet my condition would deteriorate and I'd be in permanent pain. Despite this news, I was determined to continue a fulfilling life. I knew if I didn't overcome this obstacle I would eventually end up in a wheelchair. So while recovering from the initial surgery and being mostly immobile, I diverted my attention to a less demanding pursuit and began building architectural models.
'I was interested in geology, fossicking and camping, and joined a lapidary club where I learned to cut and polish stones. We went on excursions, had some great camping trips with like-minded people and equipped an old Mitsubishi van for camping! I also joined the Men's Shed, where I was able to learn more skills and made some good friends. I was fortunate enough to learn silver smithing from a retired university teacher, and will be setting up a teaching facility at the Wingham Lapidary Club.
'Meanwhile, I continue clock repairs as a hobby. I'm creating steampunk accessories, magicians' wands, and working with electroplating metals and jewellery pieces. I've passed my knowledge of clock-making onto my nephew and helped him get his own business started.'
Peter and Mark
'We first met in Sydney around 34 years ago and have travelled life's road together ever since.'
Peter is a self-taught artist, specialising in wildlife illustration and, in particular, paleo-art (the discipline of reconstructing extinct animals). For his contributions to these fields, in 2015 he received the Member of the Order of Australia.
'After moving to our somewhat remote location, we were, at first, very aware of what we had 'lost' – dinners in smart restaurants, meeting friends for drinks, the cinema, gourmet grocery stores, decent shopping ... However, over the 15 years we've lived here, we've realised that the gains far outweigh the losses.
'For example, and surprisingly, we were warmly welcomed into a wonderful community of local people, something that as two single men in a rural location we certainly hadn't expected. There is, too, the connection you make with the land – growing your own food, drawing your drinking water from the pristine creek ... And, of course, all the benefits associated with living life in a different manner and at your own pace.
'In this place, people don't compete against one another ... we help each other to achieve whatever may be achievable. We have very little in the way of services – no shops, no medical, and (gasp!) no mobile coverage. Yet, pointedly, we have very little stress.'
Rita
'I am an 87-year-old great-grandmother, born in India of Anglo-Indian heritage – the youngest of ten children born in 11 years. A record, I think! I became a secretary at age 20. I married in India at age 23, moved to England immediately, had two children there, and returned to India for the birth of my third child.
'Unfortunately, my husband of six years died of leukaemia in England aged 31 – I was 28. I brought up my three sons in India, had a partner briefly who also died suddenly in 1966.
'I met my second husband in London in 1968. We lived together for 12 years before getting married in 1979. During this time, I worked as a secretary in Libya for two years to earn some quick money. I was made redundant in 1986 and made the momentous decision to emigrate to Australia, a decision we never regretted.
'My husband died suddenly at age 87 but he had lived a good and fulfilling life. Now I fill my life with golf three times weekly, three hours line dancing, I attend a ukulele class, sing in two choirs, play mah-jong and cards, walk (difficult terrain sometimes), and I still drive.
'My greatest achievement was publishing my autobiography in 2011 when I was already an octogenarian. To do this I had to learn how to handle a computer at that age. Now I'm addicted to my smartphone, emails and Facebook!'
Photographer
Julie Slavin
67, Taree
Julie was born and raised in Gosford before moving to Sydney. She spent three formative years in San Francisco in the early 70s and returned to Sydney, where she got involved in the art scene. Then, being pregnant, Julie went 'bush' to live an alternative lifestyle. She had two daughters and several husbands, built homes, delivered babies, and worked with a leatherworker, all while continuing to paint. Since 2001, Julie has worked as a press photographer for the Manning River Times and for the Manning Regional Art Gallery. She has also photographed the portraits of local Elders for a book, and worked with Djon Mundine (Aboriginal artist, curator, writer and activist) on a project of inclusion with local Aboriginal families. Today she supports local artists and musicians with her photography.
Last updated: 24 Apr 2018